June 13, 2016
How Reading Partners is tackling the summer slide in Oakland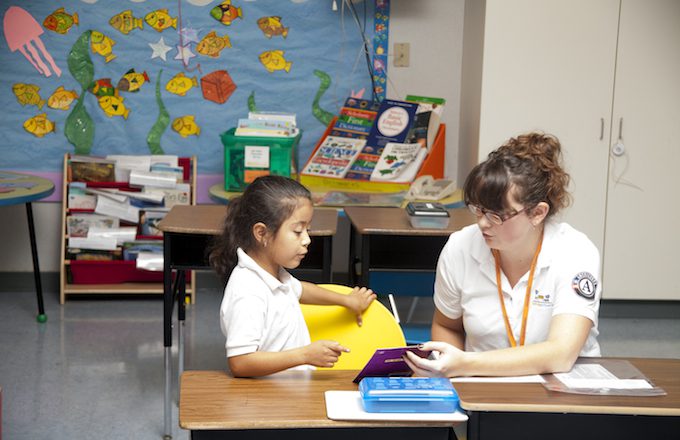 By: Amy Wade, Development Coordinator*VISTA
Many children look forward to summer as a time to relax, play, and unwind. Unfortunately, this time off leads to drastic summer learning loss, commonly known as the "summer slide."
When the school year begins again, students often start the year farther behind where they ended in the spring. According to the National Summer Learning Institute, low-income students in particular can lose more than two months of reading achievement, due to lack of access to learning opportunities throughout the summer. In addition, research finds that two-thirds of the achievement gap among high school students is attributable to summer learning loss in elementary school.
In the Bay Area, Reading Partners is working with Springboard Collaborative to tackle the summer slide challenge in Oakland by offering summer tutoring opportunities to elementary students at Cox Academy and Allendale Elementary. Students who participate in Reading Partners' effective one-on-one tutoring program over the summer will be better equipped for learning when the school year begins again. Last summer, the results of the five week intensive program were significant. Of the students who attended at least 80 percent of sessions, 70 percent increased their rate of learning! Putting them ahead of where they left in the spring.
Site Coordinator Molina Tang can attest to these results. Molina first became involved with Reading Partners as a volunteer tutor. At the end of her first year of volunteering, Molina was looking forward to continuing with Reading Partners in her new role as site coordinator, but the fall felt so far away. When she found out Reading Partners was launching a summer program in Oakland, she immediately volunteered.
The five week commitment flew by much faster than expected for Molina. Within that short period of time, she learned valuable skills, such as how to run high-quality tutoring sessions and use the best strategies to engage students. Molina's student gained important skills as well:
During those 10 sessions, she read 10 more books, learned five new comprehension skills, worked on 10 new vocabulary words, and was exposed to a fluent reader 10 more times than she would have without Reading Partners.
Thanks to Molina's individualized attention and support, her student started off the new school year a significantly stronger reader. This summer, our goal is to tutor 80 Oakland students throughout June and July. By providing one-on-one support, family engagement strategies, and Take Reading Home books, we hope to prepare and excite students for school in the fall. We look forward to witnessing our students continue to improve, learn, and grow!