April 10, 2017
SC students Rally to Read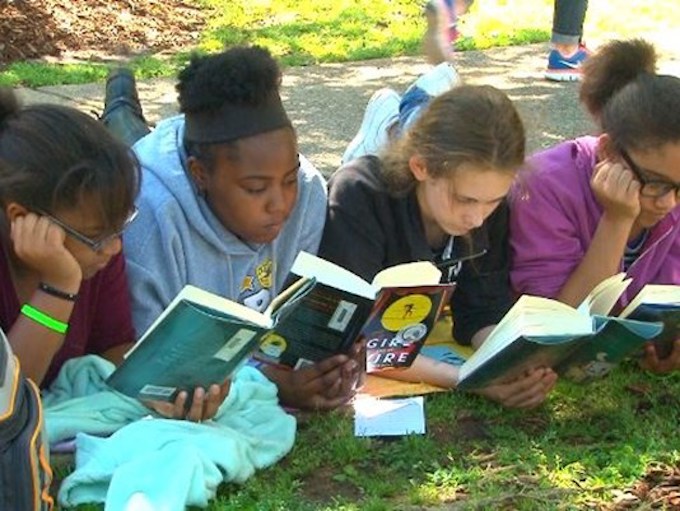 Originally published by WLTX19.
By Daniel Bonds
Columbia, SC (WLTX) — South Carolina students rallied at the State House to increase reading Tuesday.
"We want to make South Carolina #1 in academics and in reading," said Leesa Aiken, director of the South Carolina State Library.
Aiken was speaking to thousands of students from around the state at the South Carolina Read-In, an annual event geared at rallying students for reading.
In the past, South Carolina has been lagging behind when it comes to reading readiness.
According to Reading Partners Charleston, only 34% of fourth graders read at grade level in South Carolina. The state also has the 13th highest rate of functional illiteracy, that according to The Literacy Center, a Bluffton non-profit.
These are statistics educators are hoping to change.
"Each year they are gaining knowledge and achieving things based on their reading ability, so we want every child in South Carolina to have that opportunity to read on grade level by third grade and they need to be excited about reading to do that," said Kim Jeffcoat.
She is with the South Carolina Center for Children's Books and Literacy, she says reading needs to continue in the summer too.
Jeffcoat said, "If they don't (read during the summer), they are going to lose up to three to four months of learning they have achieved during the school year."
She added, "The most important thing is to not make it feel like a job or a chore or a to-do, but to make it feel like a reward."
The benefits of being able to crack open a book and read it will pay off in the future, according to Cindy Symonds of the South Carolina Association of School Librarians.
Symonds said, "Studies show if we don't catch them by third grade, they are less apt to be literate."
She said, "We know we need to read to succeed in order to make tomorrow's leaders."
Literacy is not just a South Carolina issue, nationwide about 36 million adults need help reading and about 43% of all US adults only read at an eighth grade level.