March 9, 2016
Town hall addresses student literacy in South Carolina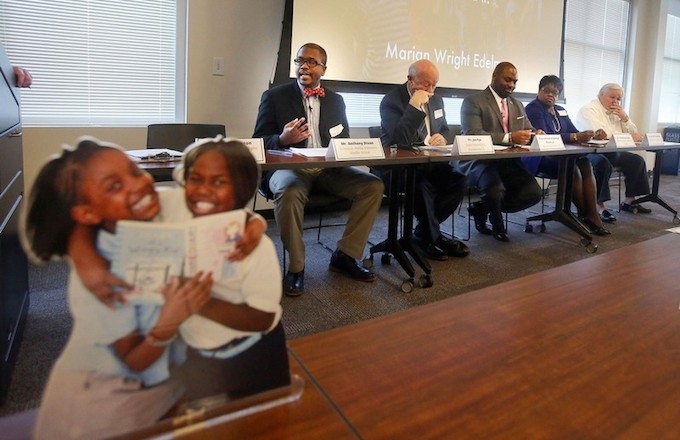 By: Deanna Pan
Originally published by The Post and Courier
Policymakers and educators emphasized community collaboration, funding and parental involvement Monday at a town hall focused on improving the state's alarming rates of reading deficiency among third- and fourth-grade students.
Hosted by Reading Partners and the Tri-County Cradle to Career Collaborative, the forum convened lawmakers, teachers, school administrators and community volunteers at the College of Charleston's North Charleston campus to discuss the bleak state of student literacy in South Carolina — and the urgency to address it.
Beginning in the 2017-18 school year, children who fail to demonstrate reading proficiency by the end of the third grade will be held back under S.C.'s comprehensive Read to Succeed Act, passed by the Legislature in 2014. If this provision of the law were currently in effect, 62 percent of tri-county third-graders would have been held back this school year based on their scores on the ACT Aspire test.
"We have got to realize what our obligations are as community to leave this world better than we found it," North Charleston Mayor Keith Summey said during a panel discussion. "And the only way we're going to do it is pay for it."
In South Carolina, nearly two-thirds of all fourth-graders are reading below grade level, placing the Palmetto State 39th nationally in reading proficiency. Among minority fourth-graders the situation is more dire: Only 15 percent of black children and 22 percent of Hispanic children are reading proficiently, compared with 45 percent of white children.
"The deficiency on reading in South Carolina today is a disaster," said Neil Robinson, chairman of the state Education Oversight Committee. "It is worse than the flooding that we experienced this past year and it is worse than the state of our roads, which seem to take up all the time in Columbia these days."
Third-grade reading proficiency is an important predictor of future success in high school and college. Studies show that students who can't read on grade level by the third grade are less likely to graduate from high school or attend college.
During Monday's panel, Summey called for higher compensation for public school teachers and criticized the limits of the county's 1-cent sales tax for school capital improvements. Meanwhile, S.C. Rep. Samuel Rivers, R-Goose Creek, argued that the responsibility of improving literacy shouldn't fall solely on the taxpayers. Parents, he said, shouldn't be given "a pass."
"If a child gets in trouble after they graduate from school, that parent will take out a loan or mortgage their home to get that child out of jail," he said. "If you're willing to rescue him when he's in trouble, why don't you invest in him while he's in school?"