March 30, 2017
Volunteers worry federal budget cuts would damage Tulsa Reading Partners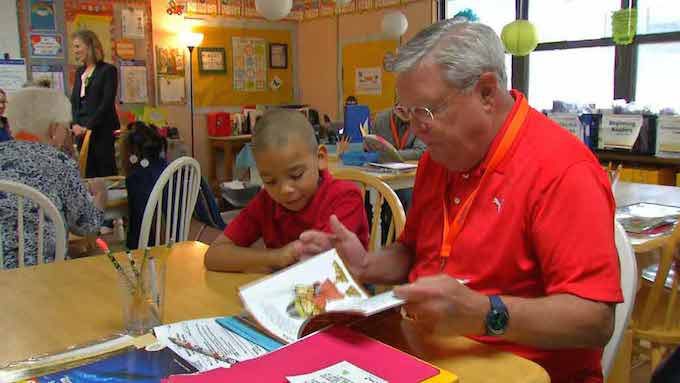 Originally published by News On 6.
By Craig  Day

TULSA, Oklahoma – President Donald Trump's budget proposal includes $54 billion in cuts to a wide range of programs.
Some worry those cuts could have a trickle-down effect, impacting children in Tulsa who struggle with reading.
Diane King is a volunteer tutor with Tulsa's Reading Partners program; McClure elementary is one of about two dozen Tulsa schools benefiting from the program.
"They seem to do better if they have someone that can work one on one with them, a couple times a week," King said.
Reading Partners works with what are considered under-resourced schools. They recruit, train and coordinate volunteers who give personalized attention to students who struggle with reading.
King said, "Totally amazing how quickly they advance in their reading skills if they have that one-on-one time."
But some of the funding for Reading Partners is in jeopardy.
Mr. Trumps' proposed budget includes eliminating funding for Americorps, which funds 15 percent of the Reading Partners national budget.
Executive Director Elizabeth Vereecke said, "Americorps is critical to the work that Reading Partners does to help the most struggling students in Tulsa public elementary schools."
Vereecke said research shows the program improves reading proficiency – and strong readers become lifetime learners.
"Americorps is critical to the powerful work that is happening across our district," she said.
Supporters have until April 28th to convince Congress to keep funding at current levels.
King said, "I don't know what we would do without this."
Volunteers fear with federal budget cuts, a program that's made great strides won't have a storybook ending.
The Trump administration says budget cuts are needed to make the government lean and more accountable, and the federal government is going to have to do more with less.
You can learn more about the Reading Partners program here.