March 28, 2017
The 5th annual Reading Partners Celebrity Spelling Bee had City Performance Hall buzzing with Boldfacers competing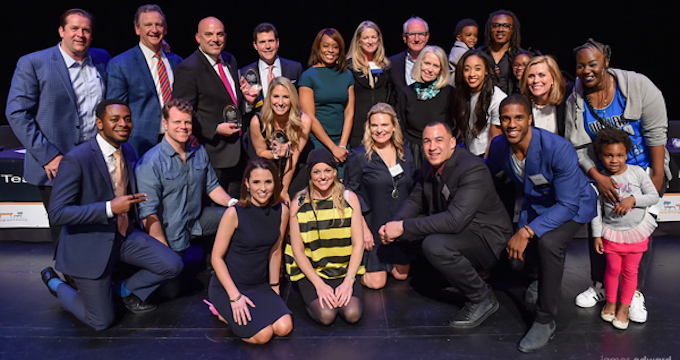 Originally published by MySweetCharity.
By Jeanne Prejean
For some, auto-spell check has relieved some of the angst of getting words spelled correctly. But a group of area hotshots, they found themselves relying on their own gray matter to compete in the Reading Partners Spelling Bee on Wednesday, March 1, at City Performance Hall benefiting Reading Partners North Texas. Here's a report from the field:
What do Don Quixote, Pharrell Williams and Hermione Granger all have in common? Their names were each spelled (not necessarily correctly) by local celebrities at the 5th Annual Reading Partners Celebrity Spelling Bee on Wednesday, March 1, at City Performance Hall. Following a cocktail reception, Co-Chairs Jenny and Loren Koziol kicked off the evening with powerful statistics about the current state of child literacy in North Texas before introducing emcees Katy Blakey and Kristi Nelson of NBC 5. Byron Sanders, Vice President of U.S. Trust, assumed his position as Official Spelling Bee Judge on stage shortly after. Then, one by one, the five teams entered the stage with hopes of being crowned spelling champions by the end of the competition. Each sponsored by a company or individual, the teams were divided as follows:
Team Neiman Marcus — Brandon Carr of the Dallas Cowboys; Tyrone Crawford of the Dallas Cowboys; and Jennifer Lassiter, Vice President of Internal Corporate Communications at Neiman Marcus
Team EY — Ryan Burke, partner at Ernst And Young; Lesley McCaslin, Fox Sports reporter; and Dr. Kent Scribner, Superintendent of Fort Worth ISD
Team U.S. Trust — Tiffany Bias of the Dallas Wings; DJ Poizon Ivy, DJ for Dallas Mavericks and Dallas Wings; and Janet Ryan, Managing Director and Private Client Advisor at U.S. Trust
Team Mike And Mary Terry — Bill DeOre, former editorial cartoonist at The Dallas Morning News; Michelle Staubach Grimes, children's author; and Mary Terry, co-founder of The Mike And Mary Terry Family Foundation
Team Vinson And Elkins — John Coleman, Executive Chef and Owner of Savor and Relish; Jim Meyer, partner at Vinson And Elkins; and Cary Pierce of Jackopierce.
Just before the competition kicked off, Dallas Cowboy Byron Jones joined Team Neiman Marcus from the crowd as a surprise last-minute addition. The spelling bee then began with one practice round, but not before each team purchased passes for $1,000 each to be used in case they got stumped. Words were pulled from one of multiple categories, such as pop culture, literature or geography. After six or seven rounds—and all passes used on difficult words—a winning team rose to the top. When Team U.S. Trust misspelled the word 'bourgeoisie,' Team EY became the 2017 Reading Partners Celebrity Spelling Bee Champions. After posing for a photo with their trophies, the winning team joined their defeated opponents to mingle with guests across the street at Jorge's during the after party.
Team EY may have taken home trophies, but Reading Partners was the real winner of the evening. The Celebrity Spelling Bee raised $155,000, which supports Reading Partners' proven child literacy intervention program. In addition to each team sponsor, the event was made possible by Holly Energy Partners, AZZ Inc., Topgolf, Make It Count Family Foundation, Bandera Ventures, Downtown Dallas Inc., ExxonMobil, Frost Bank, Industrial Valuation Services, The Hoglund Foundation, Oncor, Price Waterhouse Cooper and TIER REIT.