October 21, 2019
Media Opportunity: Thursday, October 24, 2019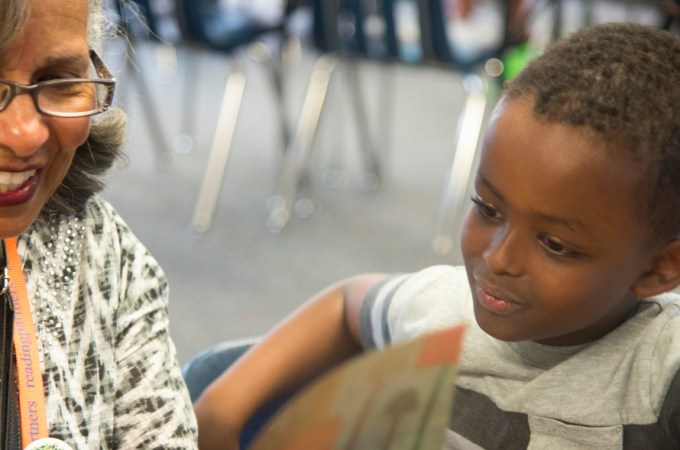 Reading Partners hosts Grand Opening to celebrate opening of 2 new reading centers in Mott Haven, doubling impact in the Bronx — DOE district leaders and United Way's Read NYC to cut ribbon.
What
Reading Partners New York will host a Grand Opening event on Thursday, October 24, at PS 43X Jonas Bronck School. Dozens of community partners and stakeholders, Department of Education district leaders and United Way's ReadNYC have been invited to learn more about Reading Partners' impact in New York, and to celebrate Reading Partners' expansion into two new schools in Mott Haven.
The 2019-20 academic school year marks Reading Partners' 21st anniversary nationally (and ninth in New York) of bringing community volunteers into schools to provide essential one-on-one literacy tutoring that empowers students to succeed in school and beyond. In the 2019-20 school year, Reading Partners aims to match 1,520 community volunteers with 1,235 students who struggle with reading in New York City. In the Bronx alone, Reading Partners expects to serve 171 students, an increase from the 93 students served in the 2018-2019 school year.  By tutoring a student for as little as one hour a week, volunteers can make an impact that can quite literally alter the course of a child's educational experience and life.
When
Thursday, October 24, 2019, 11:00 am – 12:00 pm EDT
Reading Partners and Principal Delucchi will welcome guests to PS 43X Jonas Bronck School and the Reading Partners reading center

Guests will participate in Reading Partners tutoring sessions

United Way Vice President of Education, Marielys Divianne, PS 43X Principal, Giovanna Delucchi, and Reading Partners New York Executive Director, Jennifer Harwood will cut a ribbon to open the new reading center
Where
PS 43X Jonas Bronck School
165 Brown Pl, The Bronx, NY 10454, USA
Attendees
Marielys Divanne, Vice President of Education – United Way

Fiorella Bini, Deputy Chief of Staff – Office of State Senator Sepulveda, District 32

Grace Tully, Program Manager – Department of Youth and Community Development

Reading Partners staff, including Jennifer Harwood, Executive Director

Giovanna Delucchi – Principal, P.S. 43X Jonas Bronck School
Contact Information