April 6, 2016
Experiencing the excitement of discovery with students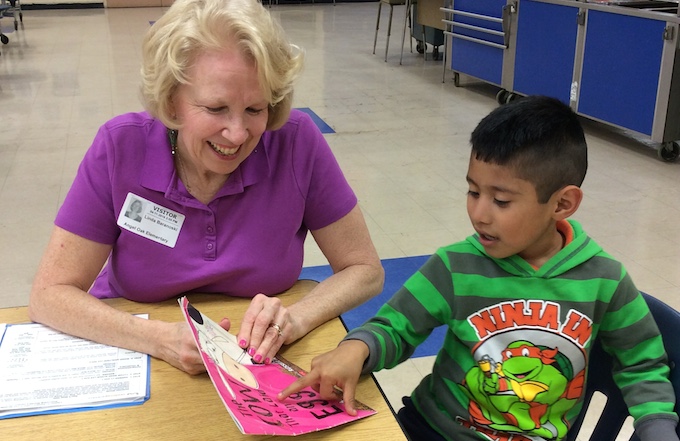 By: Linda Baranoski, volunteer reading partner in Charleston, SC
Kids! Kids and more kids! I have been surrounded by children all of my life and I have loved almost every minute of it. I recently retired from a career working with children and consequently experienced a deep empty feeling in my heart not being around children.
I also had more time on my hands and wanted to continue some kind of work with children. I first learned about Reading Partners at a volunteer fair at the James Island Senior Center. There were many opportunities for volunteerism presented, however the Reading Partners model appealed to me from the start.
I applied for a position and was greeted most graciously and professionally. The training was well done and I received my assignment at Angel Oak School within a week. My young fellow, a kindergartener, Carlos, is a sponge for knowledge and has made my time with him a pure joy. I look forward to each week working with him. He is self-motivated and improves each week. He makes me proud with his enthusiasm and curiosity about the story's outcome. I enjoy being in a school environment and have found the staff to be very welcoming to me as a volunteer.
Initially my young student was a bit shy toward me, but now he runs over to me and we exchange high-fives. I look forward to each week and miss the experience when we have a day off. I have also begun buying books for the reading library and am happy to know that the children are permitted to take home a book each week for their own personal library. This opportunity is an additional opportunity for the families to encourage additional reading at home.
On a personal note, I was a poll manager in an election in Charleston County, and one of the saddest things that I experienced was the situation of an adult who was unable to read the ballot nor sign his name. He was illiterate. That scenario has remained with me for many years. Additionally, my first job as a sixteen-year old, was in a library, because of my love of reading. I also took my own daughter to the library at a young age to many story times and she is an avid reader and works in a bookstore at this time.
The Reading Partners program affords me with the opportunity to help young children learn to read and to experience the excitement of discovery in the wealth of knowledge that is available in books.
---
Celebrate National Volunteer Week with Reading Partners! Share your story of volunteering on our website or use #ProudReadingPartner on social media.
Read more stories on our blog.