February 24, 2020
Celebrating friends who tutor together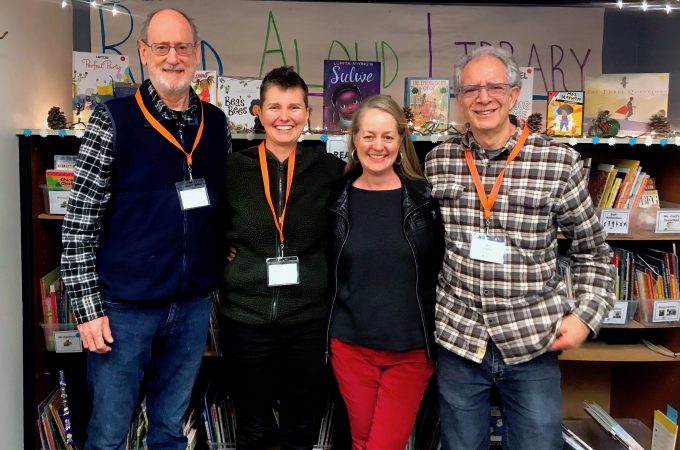 At Reading Partners, we consistently rely on the power of community time and connections to support student learning. Our volunteers travel to students and offer effective literacy tutoring support to meet each kid where they are—both the community and in their skill development.
This volunteer-driven model is only possible when members of the community raise their hands to commit at least one hour a week to make a difference. And the model is most effective when volunteers pass the opportunity on to their friends and family to create a broad network of support. Word of mouth is a vital strategy to engaging enough volunteers to meet the needs of students waiting for support.
Here are some of the stories behind a few of Reading Partners Seattle's longest running tutors. Matt, Stu, and Tasha are friends and neighbors, who met as members of the Puget Ridge Cohousing Association. Together, they have made incredible efforts to support Reading Partners by referring friends, hosting book drives, and logging over 500 collective hours tutoring students. Their experiences exemplify what can happen when communities come together to support students. 
Q&A with three long-time volunteer Reading Partners
Why did you choose to start volunteering with Reading Partners?
Matt: I wanted to volunteer, but I think what is unique about Reading Partners is that there are lots of volunteer opportunities, but very few that actually give you a structure to do so. From day one I was able to come in and follow a prescribed program. Knowing there's a path to follow takes away so much stress for me. 
Stu: I was retired and looking for a volunteer opportunity. 
Tasha: My son was about the same age as a child I was paired with, I appreciate the insights into how he might be learning and how to help him. 
What keeps you coming back to Reading Partners, year-after-year?
Matt: It's the kids, feeling like I'm making a difference. Kids learn in spite of tutoring, but they learn faster with tutoring. My student in kindergarten knew seven letters and sounds. By the time we finished in first grade, she was only two months behind in reading level. Seeing that amount of growth, their acquisition skills. It is a blessing and a miracle that I get to walk into a school and a classroom to come get my kid. When I go to pick her up, the other kids in the class know me. 
Stu: I like working with the kids, developing a relationship with them. I think it varies with the kid,  often the kids don't come from a literacy rich background. I feel it's really helpful for the kids to have that one on one time, which focuses on them. They are special for an hour. 
Tasha: Reading Partners sets it up so that it's very supportive. They remove a lot of the barriers that I think make volunteering and tutoring challenging. I also like the relationships that I have with the other tutors, and the teachers. The teacher has become a friend now. 
You get to have something cool with this child, and see how a 7-year-old thinks, their perspective on the world. The student I worked in the first year of tutoring is now in the fourth grade. When I see her in the classroom, know that you supported them when they're younger and they're able to do these things on their own. These are our neighbors, it's really powerful to help support one another.