February 19, 2015
From Tears to Smiles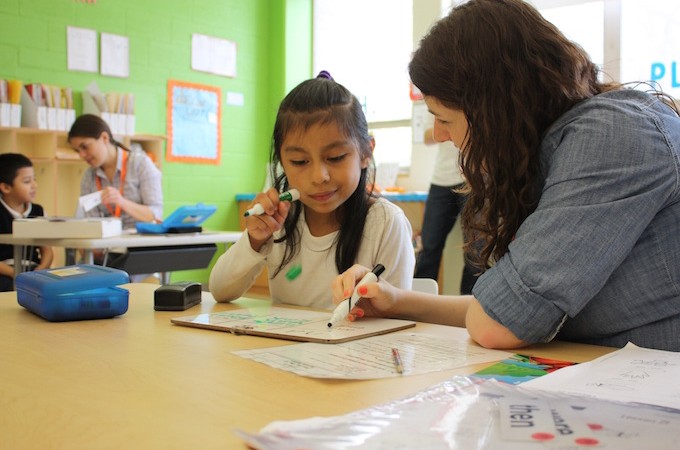 Parents, teachers, and Ms. Redfern's first-grade class sat in the audience waiting to see students like Ashley perform at the annual Reading Partners recital. When it was Ashley's turn, she strutted to the front of the audience, announced her name, and began reading from the book A Garden. She filled the room with her confidence as she read the story with enthusiasm. Every time she finished reading a page, she'd pause, look at her audience adoringly, and hold the book up like a teacher to show everyone the pictures on the page.
First-grade teacher, Ms. Redfern, described Ashley before Reading Partners as, "my student who would cry when asked if she would read a story." She added, "[Ashley] wouldn't read; she didn't have that confidence."
Now Ms. Redfern says that Ashley is excited about reading and learning. "Ashley is a student who anytime during the day loves to come up to me and show me the words that she knows. And that wasn't there before."
When you ask Ashley what she thinks about Reading Partners, she says, "It's my favorite." She says it's because her tutor, Grace, is helping her to learn. Reading Partners tutor Grace Conley says that she and Ashley have built "quite a relationship."
Reading Partners site coordinator, Nuree, has seen firsthand what a critical role Grace has played in helping Ashley focus and build self-confidence. Nuree says, "I am reminded how much potential a student has that, in a lot of cases, doesn't get tapped into in a large public school." Ashley is a changed student after Reading Partners.