September 3, 2015
AmeriCorps programs are changing the future of education in America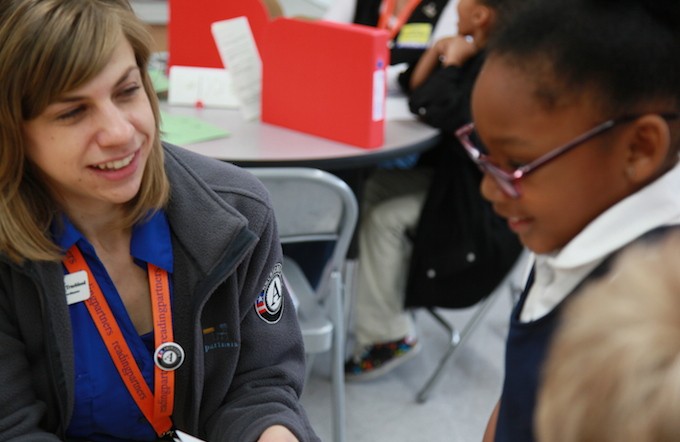 Since its founding in 1993, AmeriCorps has been tackling some of the country's biggest challenges. Education projects are one of six main focus areas where AmeriCorps members serve to remedy. Projects range from early childhood education to university-level, with members working in a variety of capacities to encourage students to reach their highest potential.
A large number of these projects serve low-income, under-resourced schools, hoping to "create the conditions that make children and youth want to learn, and give them the opportunity to achieve," according to the Corporation for National and Community Service (CNCS) website.
These under-resourced schools are a priority because students living in poverty need the extra support most. In the US, more than 16 million children are growing up in poverty, and these students are often at a higher risk for educational challenges. One-third of those students will not graduate from high school, and only 9 percent will obtain a bachelor's degree by the age of 25.
Statistics like these demonstrate just how large the education challenge is in the US today. AmeriCorps programs are tackling these problems head-on. AmeriCorps powered organizations such as Teach for America, Reading Partners, and City Year, are education-based programs that send members into schools to work directly with students as teachers, tutors, or mentors, primarily in underserved areas. This approach allows members to provide students with the individualized support and guidance they need to achieve their highest potential.
These organizations have seen tremendous impacts on education as a result of their programs. Students participating in City Year programs in math and literacy saw an academic growth rate of 1.4 times the national average. And students at Reading Partners on average more than tripled their rate of learning reading skills while enrolled in the program. In partnership with CNCS and local affiliates, these programs are also delivered at a low cost to communities and schools. The AmeriCorps model sees an impact like this in each of its programs across the country.
National reports have shown that AmeriCorps programs can make a large scale difference, and members are helping students achieve grade-level reading proficiency by third grade — an early indicator of a student's future success in school and in life.
For Reading Partners, AmeriCorps is central to delivering quality volunteer-led literacy tutoring. From VISTA members building capacity in the offices, to volunteer coordinators recruiting volunteers across the country, and site coordinators overseeing student-tutor interactions, Reading Partners depends on the work of AmeriCorps members to make an impact for students in schools across the US.
With continued support, AmeriCorps has the ability to make great strides in education. Wendy Spencer, CEO of CNCS, articulates the goal best: "AmeriCorps and other national service members are working to make sure the next chapter of the American education story has a happy ending."
AmeriCorps programs are certainly demonstrating that it is possible to achieve this goal with the help of Americans dedicating themselves to national service.