October 30, 2018
Five-Year Study Shows That Reading Partners Helps Students In Under-Resourced Schools Make Significant Reading Gains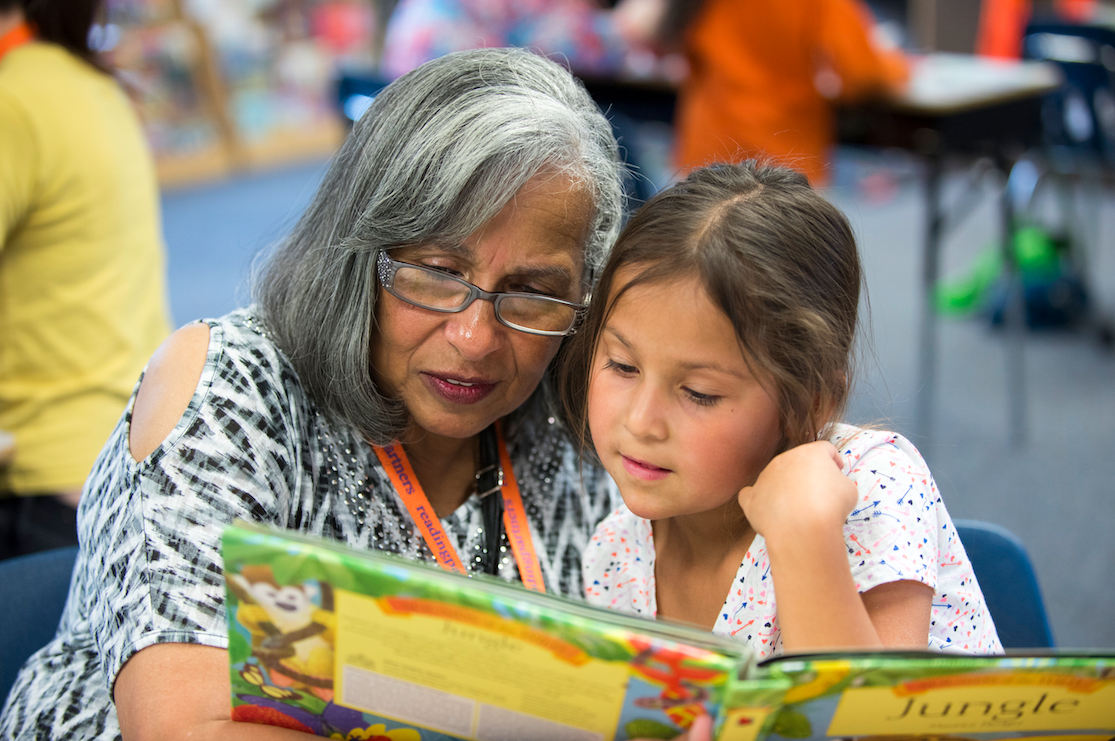 Augenblick, Palaich, and Associates (APA) finds that Reading Partners drives significant student impact on critical literacy skills
Oakland, CA, Oct. 30, 2018 
Reading Partners announces today that research conducted by Augenblick, Palaich, and Associates (APA), a national education research and evaluation company with over 30 years of experience analyzing public education systems and policies, found students who participated in Reading Partners' program for one year had significantly higher spring assessment scores compared to similar students who did not participate.
The APA study, conducted in Colorado and funded by Mile High United Way with a grant from the Social Innovation Fund (SIF), attained a moderate level of evidence under SIF's rigorous evidence framework. The study was initiated in the 2012-13 school year and completed in 2016-17, and included 698 Reading Partners students and 853 comparison students for a total sample size of 1,551 first to third grade students at 22 schools, primarily from Denver Public Schools (DPS). Among the Reading Partners students in the study, 92 percent were eligible for free or reduced price lunch, 94 percent were non-white and 55 percent qualified as English Language Learners (ELL).
"Given the scale of students reached by Reading Partners nationwide, it's highly encouraging that APA has affirmed the strength of our one-on-one tutoring program," remarked Karine Apollon, CEO of Reading Partners. "Quite simply, we are helping positively impact the literacy skills and confidence of more than 11,000 students each year at an absolutely critical point in their educational lifecycle. We believe the futures of our students can and will forever be transformed because of the important literacy boost they get by participating in the Reading Partners program."
Top-line study findings from APA about the Reading Partners program:
Implemented with fidelity — Reading Partners was able to launch quickly, sustain, and implement its program with fidelity in a new region. Students received an average of 32 tutoring sessions per year with students enrolling earlier in the year receiving more sessions.
Proven impact — The study found that Reading Partners' program had a positive and statistically significant impact on the literacy skills of students served by Reading Partners—and particularly English Language Learners (ELL)—based on assessments administered by teachers.
Higher dosage is better — When comparing Reading Partners students to all comparison students, APA found a small, statistically significant positive effect of each additional tutoring session (i.e., more tutoring is associated with stronger performance).
"There are a number of reasons to be very excited about the study findings," said APA's Co-CEO Dale DeCesare. "First, the results indicate that in just one school year, students served by Reading Partners showed significantly higher growth on academic assessments than their comparison peers who did not receive the support. Second, in an environment where school districts are searching for programs to help close persistent academic achievement gaps, the study clearly found that the gap between ELL and non-ELL students was actually reversed for students who participated in Reading Partners, with ELL students in the program out-performing their non-ELL peers."
In the 2018-19 school year, more than 11,000 students from under-resourced elementary schools will receive trajectory changing one-on-one literacy tutoring in Reading Partners' reading centers. The national nonprofit will recruit and train nearly 14,000 volunteers in 14 regions across the country to serve as literacy tutors for struggling readers.
Explore more about the APA study and other research about Reading Partners below:
To learn more about Reading Partners or to sign up to volunteer, please visit ReadingPartners.org.
###
About Reading Partners
For 20 years, Reading Partners has empowered students to succeed in reading and in life by engaging community volunteers to provide one-on-one tutoring. Since its founding, the national nonprofit organization has mobilized nearly 55,000 community volunteers to provide proven, individualized literacy tutoring to more than 50,000 elementary school students in under-resourced schools across ten states and the District of Columbia. Visit readingpartners.org to learn more about our program impact, or connect with us on Facebook, LinkedIn, Twitter, and Instagram.
About Augenblick, Palaich, and Associates
Founded in 1983, APA Consulting is an independent education research and evaluation company with extensive experience analyzing public education systems and policies. Using a variety of research techniques, including education data analysis, literature reviews, interviews, surveys, panel or focus group discussions, and statistical analyses, APA helps public education stakeholders solve problems so they can meet student performance goals and improve the quality, effectiveness, and efficiency of our nation's public schools.
Attachment: Reading Partners_APA Study Infographic
For inquiries, contact:
Julia Strasdauskas
C+W Communications
julia@collins-wilson.com