January 30, 2023
From Black Resistance to Achievement and Empowerment: A Black History Month booklist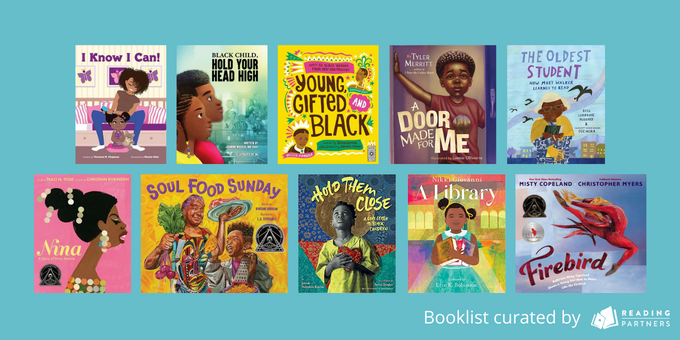 Each February, we strive to celebrate Black history and Black culture in a meaningful and nourishing way through centering literature, dialogue, and storytelling. One of the ways we do this is by curating a booklist with must-read books written by Black authors that uplift, center, and amplify Black communities and experiences.
This year's booklist aligns with this year's theme, "From Black Resistance to Achievement and Empowerment," and highlights not only the history and struggle, but also the undeniable fortitude, traditions, voices, contributions, and joy of Black communities. In the spirit of collective advancement and acknowledgment, we encourage each of you to join us in reading and celebrating Black history and share this collection of books. We hope this booklist will spark conversation, help expand young minds, and offer new and different learnings about Black culture and history otherwise unknown.
I Know I Can, Veronica Chapman, illustrated by Daveia Odoi
Knowing you can do something makes you unstoppable! Children must grow up believing in themselves and in their potential for greatness. "I Know I Can!" is a beautiful children's book that strengthens the self-esteem of everyone who reads it!
I Know I Can! is the story of a courageous little girl named Faith who dreams big and has the courage to take action! While giving a speech at her high school graduation, Faith, the class valedictorian, shares her childhood dreams, and the lessons that served as the foundation for her courage.
At Granny's, Sunday isn't Sunday without a big family gathering over a lovingly prepared meal. Old enough now, our narrator is finally invited to help cook the dishes for the first time: He joins Granny in grating the cheese, cleaning the greens, and priming the meat for Roscoe Ray's grill. But just when Granny says they're finished, her grandson makes his own contribution, sweetening this Sunday gathering—and the many more to come.
Evocatively written and vividly illustrated, this mouthwatering story is a warm celebration of tradition and coming together at a table filled with love and delicious food.
An important book for all ages, Black Child, Hold Your Head High educates and inspires as it beautifully illustrates and highlights historical events and figures. It features both iconic and lesser-known figures in Black history such as professional baseball player Jackie Robinson, musician Bob Marley, President Nelson Mandela, Judge Ketanji Brown Jackson, Astronaut/Engineer/Physician Dr. Mae Jemison and many others. Among the scenes illustrated, readers will find heroes, role models, and the ability to aspire to be whomever they desire to be.
Firebird, Misty Copeland, illustrated by Christopher Myers
In her debut picture book, Misty Copeland tells the story of a young girl–an every girl–whose confidence is fragile and who is questioning her own ability to reach the heights that Misty has reached. Misty encourages this young girl's faith in herself and shows her exactly how, through hard work and dedication, she too can become Firebird.
From celebrated author of Your Name Is a Song Jamilah Thompkins-Bigelow, fine artist Patrick Dougher, and photographer Jamel Shabazz, Hold Them Close is a picture book celebration of Black past, present, and future—a joyful love letter to Black children.
As affirming as it is touching and warm, Hold Them Close encourages young children to hold close their joy, the words of their ancestors and elders, as well as their power to change the world. A perfect book for shared story time, this book will inspire young people to march forth with pride, glow, and happiness.
Born Eunice Kathleen Waymon in small town North Carolina, Nina Simone was a musical child. She sang before she talked and learned to play piano at a very young age. With the support of her family and community, she received music lessons that introduced her to classical composers like Bach who remained with her and influenced her music throughout her life. She loved the way his music began softly and then tumbled to thunder, like her mother's preaching, and in much the same way as her career. During her first performances under the name of Nina Simone her voice was rich and sweet but as the Civil Rights Movement gained steam, Nina's voice soon became a thunderous roar as she raised her voice in powerful protest in the fight against racial inequality and discrimination.
A Door Made for Me, Tyler Merritt, illustrated by Lonnie Ollivierre
In this story based on the author's childhood, a young Black boy confronts his first experience of overt racism. In recounting the events to his grandfather, the young narrator asks: "How can she hate me when she doesn't know me?" Grandpa offers wisdom and encouragement to the child, reminding him that another person's hate does not change the fact that he is loved and that he matters. While offering an unflinching look at the emotional impact of the encounter, Tyler Merritt presents a message of love and acceptance that will resonate with young readers and offer a starting point for conversations about racial equality between parent or caregiver and child.
In 1848, Mary Walker was born into slavery. At age 15, she was freed, and by age 20, she was married and had her first child. By age 68, she had worked numerous jobs, including cooking, cleaning, babysitting, and selling sandwiches to raise money for her church. At 114, she was the last remaining member of her family. And at 116, she learned to read. From Rita Lorraine Hubbard and rising star Oge More comes the inspirational story of Mary Walker, a woman whose long life spanned from the Civil War to the Civil Rights Movement, and who–with perseverance and dedication–proved that you're never too old to learn.
Meet 52 icons of color from the past and present in this celebration of inspirational achievement—a collection of stories about changemakers to encourage, inspire, and empower the next generation of changemakers. Jamia Wilson has carefully curated this range of black icons and the book is stylishly brought together by Andrea Pippins' colorful and celebratory illustrations.
A Library, Nikki Giovanni, illustrated by Erin K. Robinson
In what other place can a child "sail their dreams" and "surf the rainbow" without ever leaving the room? This ode to libraries is a celebration for everyone who loves stories, from seasoned readers to those just learning to love words, and it will have kids and parents alike imagining where their library can take them.
This inspiring read-aloud includes stunning illustrations and a note from Nikki Giovanni about the importance of libraries in her own childhood.
This booklist was curated by Alexis Walls, Chrishana White, and the rest of the Black History Month Planning Committee here at Reading Partners.
Curriculum Spotlight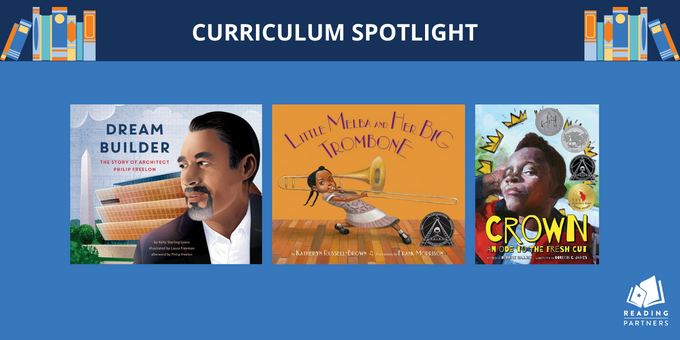 This section includes a few titles from the Reading Partners curriculum that connect with the theme of the month and are authored by individuals whose identities align with the specific heritage month being celebrated. For Black History Month, we're proud to offer these stories of Black resistance, achievement, and empowerment in our curriculum:
---
For more books on Black resistance, achievement, and empowerment, view more booklists here: