April 4, 2014
Harnessing National Service as a Pathway to Pursue Higher Education #ServeAYear
Dominique Tunzi is currently serving as a Senior AmeriCorps member at Reading Partners. In her first term of service she worked at Parkway and Ethel I Baker Elementary Schools in Sacramento, before moving to San Jose where she currently serves at Lowell Elementary School. Dominique will be attending graduate school in the Fall of 2014 at Oxford University to pursue graduate work in their Masters of Philosophy program in Evidence-Based Social Intervention.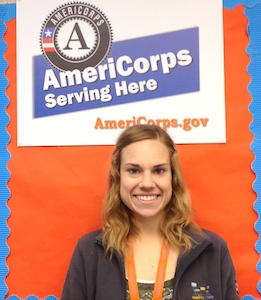 Dominique sat down for a interview in the months leading up to her departure from Reading Partners to outline how Reading Partners AmeriCorps program has had a profound impact on her future career path and transition from college to graduate school.
How was your experience as a Senior AmeriCorps member with Reading Partners?
I've really enjoyed being able to delve more into the curriculum, as well as compare my two experiences. My school, student and tutor dynamics this year are completely different than last year.
It has also been interesting observing how our program changes from year-to-year and learning what adaptations need to be made around curriculum support, tutor coaching, and overall school relationships depending on the population being served. Understanding program logistics has hugely benefited my professional development already; it allows me to focus more on session quality, individual student needs, and the additional fun activities, like rewarding students for Take Reading Home, that often comes second to the learning curve during your first year.
How did participation in Reading Partners' Leaders In Training program (an advanced training program for returning Reading Partners' AmeriCorps members) benefit you?
I've really enjoyed being able to execute some leadership with planning Service Days and have more hands-on experience with event planning. I also enjoyed having extra time to  read some literature that can support both my work in the Center as well as my future careers goals. It's nice to know there is an extra layer of support if we want it.
What graduate schools did you apply to?
I applied to a handful of Education PhD programs in the States, such as Berkeley and University of Wisconsin Madison, as well an MPhil program at Oxford. My interest is rather specific so I chose schools based on who had professors doing work similar to my interests.
In what ways did Reading Partners support the application process? 
My supervisor in Sacramento, Deanna Berg, wrote me a letter of recommendation! I was very grateful for her help during the application process. Other than that, I have had some great coworkers who acted as sounding boards during my decision making process. I had planned on graduate school for a few years, so I had already figured out most of the application process logistics before joining Reading Partners' AmeriCorps team.
What school are you selecting to attend? Why?
This fall I'll be attending Oxford to pursue graduate work in their program: Evidence-Based Social Intervention. My ultimate goal is a PhD, so it was a tough decision to choose a Masters program without a PhD guarantee, but the fit with that program was much better than my other choices, so it's worth the risk! Figuring out priorities was very important—and very difficult. Ultimately, I decided that the training Oxford's program will provide me is what I want even if it means moving quite far and taking some risks.
Would you recommend for AmeriCorps service to your peers?
Absolutely! My undergraduate school has a huge focus on service, so many of my friends chose to participate in a year or two of service, most of which was through AmeriCorps. I found it extremely beneficial because it is directly related to the type of work and research I hope to pursue—evaluating and analyzing social programs—and having experience at that ground level is essential.
About AmeriCorps
AmeriCorps is a national service program supported by the Corporation for National and Community Service (CNCS) that provides opportunities for citizens to meet critical community needs in the following categories: veterans and military families, healthy futures, economic opportunity, environmental stewardship, disaster services, and education.
Reading Partners receives AmeriCorps funding which allows us to provide full-time service opportunities in our programs across the United States. Reading Partners AmeriCorps members dedicate 1700 hours of volunteer service from August to June, in exchange for leadership and career development, and a living stipend.
AmeriCorps is an exciting opportunity for service-minded individuals who are passionate about education and the nonprofit sector!