May 6, 2014
The hidden benefits of reading aloud to a child
Reading aloud in action
Do you remember being read to as a child?
Whether at home in the lap of a parent or on a rug listening to a favorite teacher, the joy of having someone read to you is not easily forgotten.
In addition to the pleasure that students enjoy when read to, research has consistently shown that simply reading aloud to children helps them build valuable comprehension skills. Until students reach their late middle school years, listening comprehension skills exceed reading comprehension.
Listening comprehension is an important skill for children to develop in their early years of literacy training. Listening comprehension skills enable students to:
1. Enjoy books and develop a positive association with reading.
2. Develop and practice listening comprehension skills.
3. Enable students to understand more challenging and complex texts.
4. Practice critical thinking skills.
5. Build vocabulary and background knowledge.
DIY instructions for leading a read aloud
At Reading Partners each tutoring session begins with a 10 minute read aloud where the volunteer tutor reads to their student. Here are some simple instructions to help guide a fun and productive read aloud session with elementary aged children.
1. Pick a book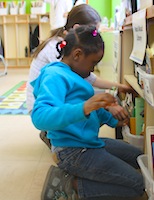 Let the child choose the book from a selection of books ranging in genre and topics. Present a selection that will challenge their listening skills.
This year, Reading Partners added Core Read Aloud books to all of our read-aloud libraries.  These books are high-interest informational texts and literature aligned to the Common Core State Standards for grades one through four. Core Read Aloud books include a discussion guide that supports tutors in engaging their student in a high-interest, high-quality discussion while reading.
2. Before you even start reading…
Briefly introduce the book and set a purpose for the read aloud with the child before you start reading. Tailor the purpose to each individual book.
For example, if you are going to read Seed, Sprout, Pumpkin, Pie (an informational text for beginning readers), tell the child that they will get to learn about pumpkins and ask him/her for one thing they already know about pumpkins.
3. Make it interactive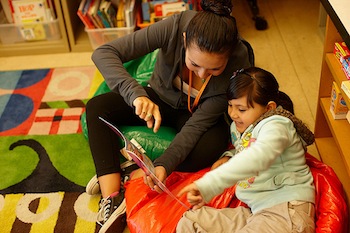 Ask questions, discuss the book with the child by asking comprehension questions during the read aloud. These questions encourage children to think carefully about texts and provide evidence for their thinking. For example, during the discussion of Hewitt Anderson's Great Big Life, the tutor asks the student whether Hewitt minds being small while the rest of his family is giant and to give evidence for their answer based on what Hewitt says and does in the text.
In addition, discuss one or two vocabulary words and review over the next several weeks until the child knows it.
At Reading Partners, tutors are prompted with pre-selected questions and vocabulary words, marked throughout the text. Comprehension questions link back to the Common Core State Standards, providing support for tutors in asking high-quality questions.
4. Bring it full circle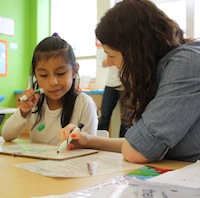 End with a question or prompt to bring the child back to the purpose set before reading. This allows students to consolidate their thinking and share what they have learned while reading.
Whether a tutor, parent, teacher, family member, or friend, by reading aloud to a child you are making a positive impact on his/her reading skills, education, and life.