March 22, 2017
Reading Partners student is the inspiration for new book
Writing books is nothing new for Ron Craig. Recently retired, this self-published author and Air Force veteran decided to volunteer his time with Reading Partners Sacramento at Michael J. Castori Elementary School.
"In 2016, I discovered a great national organization called Reading Partners and volunteered to tutor a couple of students," recalled Ron.
Little did he know one of his students, fourth-grader Kye, would become the inspiration for a new literary adventure.
As the old saying goes, "necessity is the mother of invention." Last fall, Kye searched the Reading Partners read-aloud library, hoping to find a book about cars and how they work. He wasn't looking for a book full of car pictures, rather, one that explained the mechanics of an automobile.
"I learned that he wanted a book to learn about cars. I went to Barnes & Noble, but I couldn't find a book that matched his interests, so I took it upon myself to write the book he described to me," explained Ron.
Yes, you read that correctly. Ron couldn't find the right book, so he wrote one.
"I have a background in writing fiction, so this book would be a little different from my past publications. He wanted to know the technical stuff that you see when you look under the hood of a car," said Ron. After some revisions based on Kye's feedback, the book Kye's New Car, originally titled Kye's New Project, was born. It's a "how-to" book about cars blended into a fictional story about a father and son, with Kye as the main character.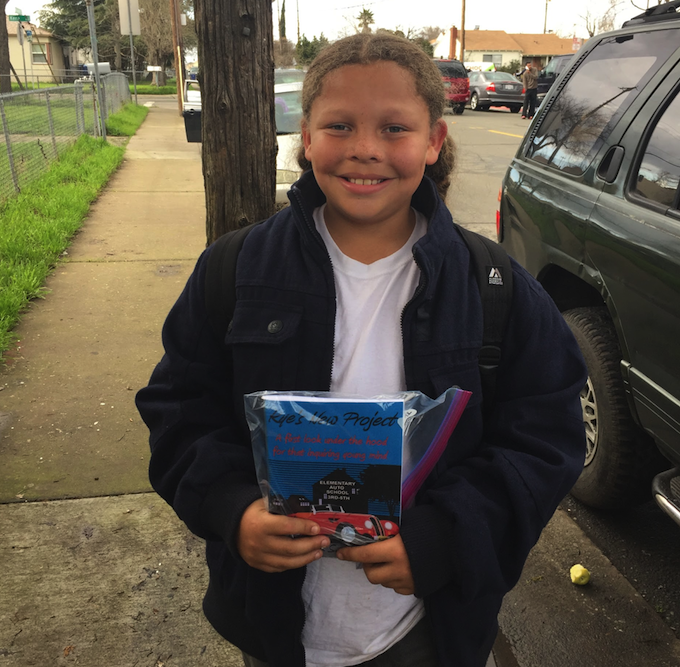 Fourth-grader, Kye, has now transformed into the main character of an 80-page story.
Kye's teacher first referred him to Reading Partners to get help with his reading skills, not expecting that he would meet and inspire Ron to write a whole book about him. With chapters titled "Transmissions" and "Nuts and Bolts," the book follows Kye and his dad as they fix up a neighbor's beat-up old 1955 Jaguar.
Ron was really excited to present Kye with an official copy of the book. "The goal of this project is to interest him in choosing a book over other activities at home," said Ron. Though most Reading Partners volunteers don't write books about their students, all share the same goal: to encourage children to find books that interest them while helping them develop the skills they need to read those books. Ron is one outstanding example of how one individual can inspire the power of reading!