September 29, 2016
Reading Partners announces strong student reading progress in the San Francisco Bay Area from volunteer-led tutoring program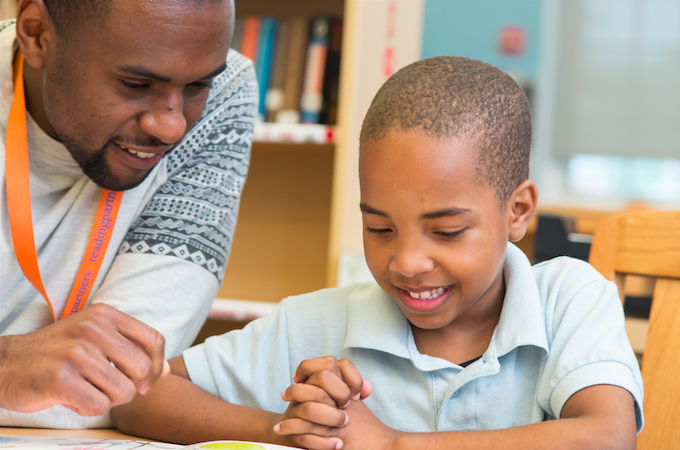 Contact:
Mandy Motl, Special Projects Manager, Reading Partners San Francisco Bay Area
(510) 473-7751, mandy.motl@readingpartners.org
Nonprofit calls for more community tutors in 2016-17 to expand impact
(Oakland, CA) September 28, 2016 — Reading Partners is a national nonprofit organization that collaborates with local public schools and mobilizes community volunteers to provide students in under-resourced schools with the proven, individualized reading support they need to read at grade level by fourth grade.
Reading Partners transforms a dedicated space into a reading center, complete with a library and teaching tools managed by a full-time AmeriCorps member or staff member. Reading Partners collaborates with teachers and principals to identify students reading behind grade level, and provides them with personalized literacy instruction.
2015-16 Results
Reading Partners prides itself on running a program that is both highly effective and transparent. In that spirit, the nonprofit organization issues annual impact reports spotlighting national-level performance as well as performance results in all 14 of its regions across the country. The impact reports for the 2015-16 school year have recently been posted on readingpartners.org and include the following highlights and many more.
In Reading Partners' San Francisco Bay Area region:

More than 1,500 students at 30 partner schools were matched with nearly 1,700 community volunteers who delivered over 49,000 tutoring sessions over the course of the year.

Among Reading Partners' youngest students, 86% mastered key foundational reading skills needed to read at grade level.

Based on survey responses, 86% of principals reported improved school-wide reading progress, 97% of teachers reported Reading Partners is valuable to their school and 96% of volunteers were satisfied with their experience.

Learn more about Reading Partners' impact in the San Francisco Bay Area here.

Learn about Reading Partners' national impact here.
"Our 2015-16 student results demonstrate what can be achieved through Reading Partners' high-quality, individualized literacy intervention in partnership with our school and district partners," said Michelle Torgerson, Executive Director of Reading Partners in the San Francisco Bay Area. "For our students, we are excited about their achievements, and to our tutors we extend our sincere thanks for the time they invested to ensure their student reading partners experienced success and reading confidence when in the past they might have felt frustrated about reading."
Volunteers Needed in the 2016-17 School Year
According to the California Department of Education, 65% of San Francisco's low-income third graders are reading below proficiency, and in Oakland the number climbs to 83%.This means that low-income elementary school students are still learning to read when they should instead be reading to learn. Without developing the reading skills needed to read on grade level, kids won't have an equitable chance to succeed in school or in life. In fact, students who can't read by fourth grade are four times more likely to drop out of school or not earn a high school diploma.
In the 2016-17 school year, Reading Partners aims to match nearly 2,050 community volunteers with 1,700 struggling readers in the Bay Area. By tutoring a student one-on-one for as little as an hour a week, volunteers can make an impact that can quite literally alter the course of a child's educational experience and life. Reading Partners provides a turnkey, regular volunteer opportunity for community members who want to make a difference in the lives of young people.
The impressive student results highlighted above and in the corresponding impact reports would not be possible without the generous participation of thousands of community volunteers. To become a volunteer with Reading Partners, please visit readingpartners.org/volunteer today.
About Reading Partners
Reading Partners empowers students to succeed in reading and in life by engaging community volunteers to provide one-on-one tutoring. The national nonprofit organization will provide proven, individualized literacy tutoring to more than 11,000 elementary school students in under-resourced schools across ten states and the District of Columbia in the 2016-17 school year. Visit readingpartners.org, or connect with us on LinkedIn, Twitter, and Facebook, to learn more.