April 18, 2016
The Golden State Reading Guarantee (CA SB 1145) passes through Senate Education Committee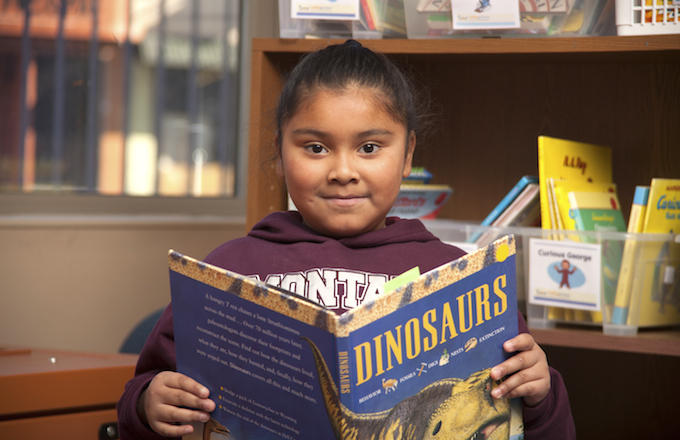 The state of California has one of the largest economies in the world. It is home to leading industries like technology, aerospace, and agriculture. Yet, despite its impressive accomplishments, California's children are not getting the support they need to be successful in reading.
California is at a crossroads when it comes to providing critical reading support. By national standards, 72 percent of all fourth graders in California are not reading at grade level, according to the 2015 National Assessment of Educational Progress (NAEP) scores, making California one of the five lowest performing states in the country. Sixty percent of all California fourth graders do not meet the standards for reading as set by California's Smarter Balanced Test. And the numbers are even lower for low-income and minority students: 69 percent of all low-income fourth graders are not reading at grade level, with 68 percent of all Hispanic fourth graders and 72 percent of all African American fourth graders not meeting California state standards.
This is more than a reading issue, "This is a civil rights issue," said Senator Hueso during his testimony in support of the Golden State Reading Guarantee.
Introducing the Golden State Reading Guarantee, Senate Bill 1145
The Golden State Reading Guarantee (GSRG), Senate Bill 1145, supports investments in evidence-based methodologies that work to close the reading gap and provide struggling K-4 readers with the tools they need to be successful. Authored by Senator Ben Hueso, the bill is sponsored by Reading Partners with support from the California Latino School Board Association, StudentsFirst, The Hispanic Foundation of Silicon Valley, Yolo County Superintendent of Schools Jesse Ortiz Ed.D., and former Mayor Antonio Villaraigosa of Los Angeles.
Proponents of the bill built a strong case for support during the bill's hearing in the California Senate Education Committee, securing a 5-1 vote in favor of the bill. Moving testimonials came from prominent leaders in the California education community: Michael Lombardo, CEO of Reading Partners; Dr. Barbara Flores, President of the California Latino School Board Association; Dr. Katie McNamara, superintendent of South Bay Union School District; and Tracey Weinstein, national director of policy at StudentsFirst.
"We're thrilled by [the] decision and applaud the committee for recognizing that the ability of a student to read proficiently by the fourth grade is one of the most significant benchmarks in being able to achieve academic success in all other subjects," said Michael Lombardo.
The foundational components of SB 1145 include:
Creating individualized reading plans for struggling students.

Increasing family engagement in decisions affecting their children.

Seeking funding that will allow schools to provide more support to K-3 readers.
Though the GSRG will impact the entire state, the implementation will be left to local decision makers who are most knowledgeable about the needs of students in their communities. Individualized reading plans will be created locally in collaboration with a local level team that includes a student's teacher, parent or legal guardian, reading specialist (if present in the school or district), and school administrator.
At the heart of the bill, "The Golden State Reading Guarantee is an investment in the future of our state and crucially [provides] opportunity for children all across California," said Lombardo. "Senate Bill 1145 represents a critical opportunity for California to step up and follow, frankly, the lead other states have taken in combatting the early literacy crisis we face."
How will SB 1145 address California's K-4 literacy crisis?
"The ability of a child to read and comprehend proficiently during the kindergarten through fourth grades lays the foundation for further learning and impacts how the student is able to grasp subjects such as math and science," stated Senator Hueso. "We need to begin investing in proven educational practices at an early level, and I believe Senate Bill 1145 helps close the reading gap and provides struggling readers with the tools they need to be successful."
When a student is unable to read and understand materials presented in the classroom, they fall behind their peers and lose interest in school. These deficiencies compound over time, leading to a reading gap in students that can create lifelong barriers to success. A child who is not reading at grade level by the fourth grade is four times less likely to graduate on time and is at a higher risk for incarceration, teen pregnancy, and adult poverty.
California has heavily invested in high technology industries that will offer good, high-paying jobs. However, it is forecasted that California will be short one million students with bachelor's degrees to meet in-state workforce demands. The GSRG seeks to remedy this unfortunate projection by investing in proven educational practices to implement early in a child's education to ensure students stay on track and have the opportunity to graduate college.
Mayor Villaraigosa said of the bill, "By improving child literacy, we are ensuring that every student has an opportunity to succeed and that there will be fewer high school dropouts, more college graduates, and a better trained workforce that will strengthen California's economy."
Next steps: Seeking feedback and support!
This is just the beginning of the legislative process for SB 1145. As a result of passing the Education Committee, the bill will be heard next by the Senate Appropriations Committee on May 27.
To watch the entire Senate Education Committee hearing, visit the California Senate media archives and search for "Senate Education Committee" on 04/13/2016. To learn more about Reading Partners' advocacy work and to stay up-to-date on SB 1145, become a Reading Partners advocate today.