December 10, 2013
Sacramento tutors speak for themselves: Why spending one hour per week is a worthwhile cause
Tutors are the heart of Reading Partners. Without dedicated and passionate volunteers, our program simply could not succeed. With over 575 tutors in the Sacramento region, we know there are a whole variety of perspectives on our program. From tutors who work 40-60 hour weeks and still find time to volunteer, to tutors who are testing the waters in an early education career pathway, tutors keep coming back each week because they are committed to helping children succeed and are thrilled to watch their students build confidence in reading and in school.
Helping Students Grow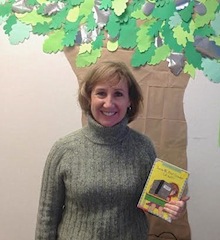 When Sonia Castellani was introduced to Reading Partners by a previous Site Coordinator, she was excited about the opportunity to help get a new program established at Parkway Elementary. Sonia is a busy women working 40 to 60 hours a week and acknowledges that some days it can be difficult to make it to her tutoring sessions. But, she is dedicated to showing her student – by her own example — that it takes commitment to achieve things.
Sonia believes Reading Partners is important because it provides the needed one-to-one time that struggling students need to grow in their reading skills. Sonia states, "My first impression of Reading Partners was that the program CAN help struggling students. I was excited when my student completed his first book report at home and gave a very complete and descriptive explanation of the story. I find joy in giving, helping and encouraging my student to grow. It is rewarding."
Learning With Students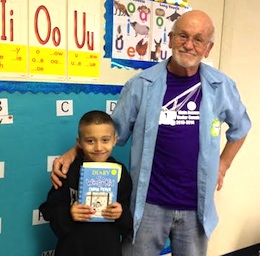 Dennis Boyd had some reservations when he began volunteering with Reading Partners; Dennis was a bit concerned about his ability to motivate students to love reading. But, he quickly learned that his students would motivate him! "Alina and Ruben have equally dismissed any concerns I had on how I would go about motivating students to want to engage and find the thrill of what reading can bring. My concerns disappeared at the outset and it was I who soon rediscovered that thrill through their enthusiasm."
While Dennis thought the time reading aloud to students would be the most fun, he tells us that he never tires of seeing Ruben's eyes light up as he works through sounds and syllables until he suddenly knows he has it right. Alina's Russian heritage means she has to work a little harder at reading, but she's always determined to do it on her own and doesn't know anything about giving up. She loves reading and wants to share with Dennis, in detail, all that she reads. "Seeing her confidence grow in the short time we've spent is more reward than I could ever ask. It truly is a continual joy and pleasure being able to share this with them."
Making a Difference is Easy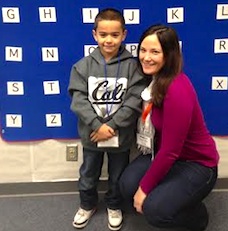 Meghan Hennelly started tutoring because she thought it would be a good way to see if her interest in teaching was a good, natural fit. Meghan tells us, "It's very easy to donate one or two hours during the week to make the commitment to a student. So far, so good. Reading Partners is very approachable. You connect immediately with the school site coordinator, who is very encouraging and helpful with any questions you have."
Meghan tells us she loved meeting her student for the first time and quickly realized that the more you tutor, the easier it is.  She sometimes wonders if her student is paying attention and comprehending the lesson, especially when they don't see each other because of school breaks. Recently, Meghan was surprised to learn how much of an impact she had made despite the challenge. "We picked up the book on Sharks and started where we had left off the last time. The book had very long descriptions of all types of sharks. Without thinking, I asked him what he remembered, and he excitedly recited a list of all the sharks we had read about and the unique features of each one. I was amazed that he had remembered so much in such great detail. He reminded me that students are like sponges, soaking up everything as they go along."
Meghan keeps coming back each week because she is committed to helping her student thrive and is thrilled to watch him become a stronger reader and more confident student. Meghan says "[she] can see that he's becoming more fluent and reads words with more ease and confidence"…"Even his teacher said he has improved tremendously from the beginning of the school year, which was awesome to hear."
Want to volunteer in Sacramento or one of our other regions across the United States? Sign up today!